Following the success of the award winning 3D-lipo which combines technologies for the effective treatment of fat, cellulite and skin-tightening, we launched a phenomenal new multi-functional device for the face, the 3D- skintech. Here are just some of the reasons why 3D- skintech is all you will ever need…
How this technology  helps your skin:
3D- skintech combines clinical technologies of a standalone quality in one amazing device with medical grade skincare and peels for the effective treatment of Acne, Pigmentation & Anti-Ageing. No other system offers the individual standalone quality of each technology in a multi- platform device.
The 3D- skintech not only offers a comprehensive range of combination treatments but can also be used for dedicated services such as microdermabrasion, mesotherapy, skin tightening & LED. As a further alternative, each technology can act as an accent service to any treatment allowing you to focus on areas of concern. It is important to stress that the 3D-skintech's individual technologies represent the best of what is available on the leading "stand-alone" devices unlike most other combined offerings available.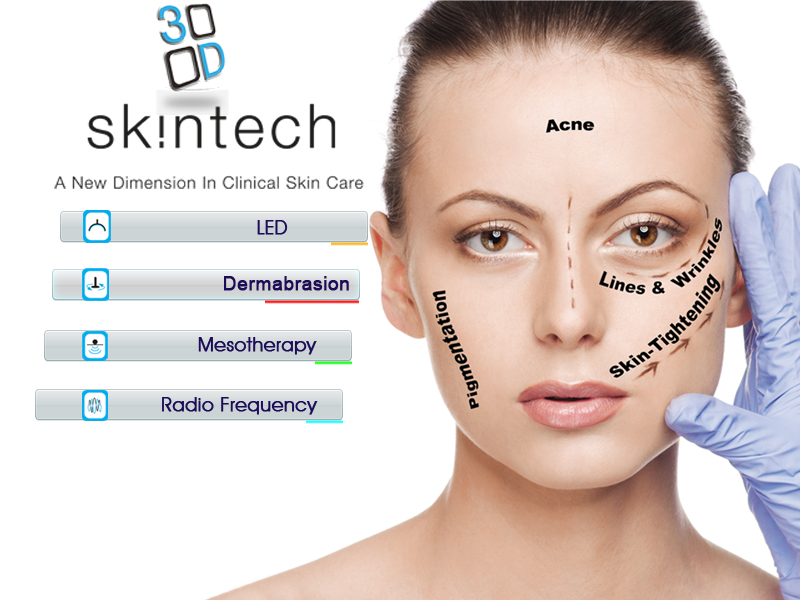 Complete treatment portfolio for anti-ageing, pigmentation and acne
4 technologies ensure a prescriptive & total approach to your clients' needs
Unsurpassed results ensures maximum client loyalty
Highly profitable with a multitude of services to offer
Provides you with a competitive edge in your area
Priced affordably with free product starter package
Finance available (subject to status)
The radio frequency element of the machine uses the latest Tripolar technology. This is a pain free treatment for skin tightening with visible results that ensures a comprehensive and prescriptive approach to your clients' needs.
Rotational Microdermabrsion
This latest technology combines the latest in adjustable , rotational control with variable vacuum to ensure a precise yet comfortable service without the downtime issues commonly associated with crystal microdermabrasion.
Hailed as the next generation following dermal rollers, electro mesotherapy breaks down the cell wall to enable ingredients to be delivered into the cell wall where they are needed most. This is a pain free treatment with no needles.
3D- skintech offers a full canopy LED with four colours designed to treat different skin types. This is a 10 minute treatment making it the perfect add on to any facial. Used in conjunction with our unique technology, or as a stand- alone service.
Equipment and Accessories included;
Equipment
1 X 3D- skintech Machine
1 X Rotational Microdermabrasion Hand Piece
1 X Mesotherapy Hand Piece
1 X LED Arm (Red, Blue, Green & Yellow)
1 X Tripolar Radio Frequency Hand Piece
1 X (Pack of 9) Diamond Tips Grade 100, 150, 180, 200 Grit
1 X Power Cord
1 X User Manual
The many happy reviews of our clients
I'm absolutely loving 3D- lipo! It's so effective and quick – what's not to like about it?! I can see a change in my body with every treatment and I couldn't recommend it enough.
I had heard of 3D-lipo and wanted to see how it works, and just after a couple of sessions, I actually started to notice a difference – it's incredible!
I was so pleased to be given the opportunity to have the first medical version of the award winning 3D- lipo machine in my new clinic. This multi-platform technology offers a powerful non-surgical alternative to lipo suction with the addition of skin tightening and cellulite reduction modalities
"I introduced 3D Lipo to my clinic in March 2014.  At first I was nervous about whether I would make a return on my investment, but it proved to be a very good move and I soon started to get bookings. My first patient insisted on having her treatment the day the machine was delivered!
Subscribe to our newsletter for all the latest, news offers and promotions.
Please feel free to contact us for more details or information. We are ready to get you started.
3D Lipo Ireland , Main Street Clane, Co. Kildare